Thursday 15 July 2010
Back from Bordeaux: RMLL 2010
At the end of last week (assuming it's okay to say that the end of the week starts on Wednesday ;-)), I went to Bordeaux for the RMLL 2010: this is simply the biggest community-oriented event in France. Since I've been traveling often lately and I'm going to leave for GUADEC later this month, I chose to not attend the whole event and to only be there for 3-4 days instead of the full 6 days experience.
Booths
The Mandriva people had a really great idea this year: they proposed to try to share a booth among distributions, and thanks to them, we were able to have an openSUSE presence on the first few days. So walking down the hall where all the booths were, you could see Debian, Fedora, Mandriva and openSUSE all together. Of course, we shared more than just the booths: we're all friendly people after all, so we chatted a lot and enjoyed being together. I really want to thank Michael from Mandriva for pushing me to make sure openSUSE would have a place here.
One funny tidbit is that we never requested a GNOME booth since all the GNOME people coming to the event knew they'd be busy with various other tasks (and I didn't feel I could handle both a GNOME and an openSUSE booth...). However, we still got one this way ;-) It was merged with the distributions booth, and I just put GNOME stickers all around to make sure our GNOME love gets distributed!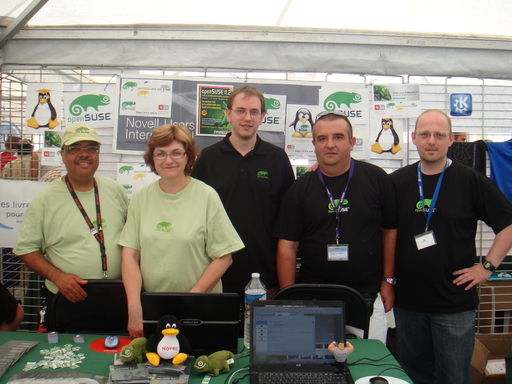 openSUSE Booth at the RMLL
The picture above shows the openSUSE booth during the week-end, which was much better organized than during the first few days! I don't think I have a picture of the first booth, so you can't really compare, but it's probably better this way ;-) Thanks to Michael (the openSUSE one) for sending us DVD, stickers and a few t-shirts: it helped make the booth more interesting!
Radio RMLL
A small group of volunteers was broadcasting a radio show during the whole event: Radio RMLL. And guess what? The world-famous Frédéric Péters was part of that team! The archives are online, and you can make fun of various distributions by listening to the distribution roundtable that Frédéric organized: hopefully, the fact that we knew each other made it not too boring!
Talks
Like for Linuxtag, I delivered two talks: one about GNOME 3.0, and the other about contributing to openSUSE. While both were in the Development track, I thought it'd be better to talk about GNOME 3.0 from the user perspective since that's what people were expecting; on the other hand, for openSUSE, I wanted to show that contributions to a project like openSUSE aren't necessarily technical contributions.
One thing that struck me (and the other GNOME people) is that we get much more excitement when we propose a talk about GNOME 3, than when we were trying to present the latest development in GNOME during the 2.x era. It's not the first time we noticed this (it happened in all previous events where we had some GNOME 3 bits too), but the contrast is so important that I'm now convinced the version number is much more important from a marketing perspective than from a technical one. Definitely something to keep in mind for our future roadmap, and for when we'll think about GNOME 4.
I also got interviewed for Linux Pratique about GNOME. During the discussion, I discovered the editors are based in Sélestat, which is a small city a few kilometers away from where my grand-mother lives. Small world.
The people
The best thing about an event like the RMLL is of course all the people you meet. It was good to see old friends (Didier, Frédéric, Michael, Alexandre, just to give a few names) as well as new faces! Being nasty people, we all made fun of each other's projects, but we also learnt the latest news about all those projects and their contributors. Oh, and we managed to bring someone living in London to an Irish pub in Bordeaux — is there a better place to enjoy food in France?
It was interesting to see that there were GNOME-friendly people (not just GNOME contributors) all around, although we weren't present with a real booth. And I was obviously glad to meet some members of the french-speaking openSUSE community: Guillaume, Julien, Jimmy and Jean-Luc. I think it's one of the first time (if not the first) where we managed to make openSUSE really visible during an event, and it was successful. It's a good step in making openSUSE-fr an even more vibrant group!
Come next year!
The event was not perfect, though: I think most people would agree that the wifi could have worked much better (it was down way too often), that having the event split between various building that weren't really close to each other was suboptimal, and that the weather was, well, way too hot ;-) But I'm sure the organizers did their best, and they even succeeded in getting a few drops of rain on Friday!
So not perfect, but it's still one of the two or three times in the year where you can connect with most of the free software community in France, and if only for this reason, that's a must-go event here. Oh, and next year, it'll be in Strasbourg: that's another reason everybody should come!