Saturday 13 October 2012
Chairing the openSUSE Board, SUSEcon & openSUSE Summit
I'm supposed to be flying over the Atlantic right now to attend the OpenStack Summit, but British Airways had other plans for me: I'm stuck in London for a few hours, and will head towards New York tonight, before going to the west coast. But since I have Internet access, I guess it's a good opportunity to write about something that happened last month: I joined the openSUSE Board as chairman!
(And if you were wondering: I'm still part of the SUSE Cloud team, and the chairman position simply comes on top. The fact that I'm heading to the OpenStack Summit should have given you a hint already ;-))
For those who don't know about the governance structure of openSUSE, the openSUSE Board is a group of six people that exists to serve and guide the community. This includes working on legal and financial topics, talking to our different sponsors, etc., but it specifically does not deal with the technical side of the project. The Board is made of six members: five who are elected by the community, and one (the chairman) who is appointed by SUSE.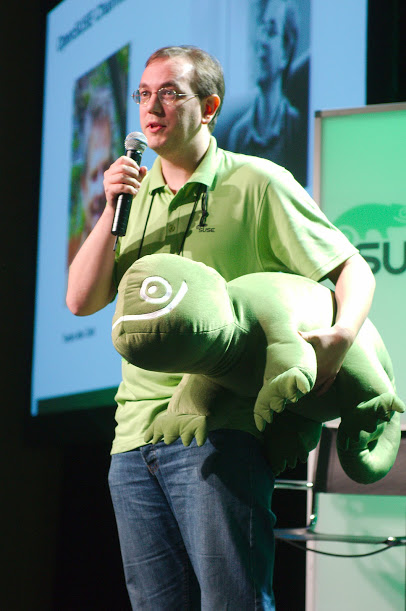 The new openSUSE Board Chairman. Picture by Andreas Jaeger
Until recently, Alan Clark was the chairman, but he recently got elected chairman of the OpenStack Foundation. I was surprised when I got asked if I'd be willing to step up, but that was a pleasant surprise: I was actually considering running for the next board elections, so it didn't take me too much thinking to accept :-) I got interviewed twice about this new position. This is quite cool, as it shows how much people are interested in what's going on in the openSUSE world.
I do believe there's a lot the Board can do to help the project, and there are many ideas I'd like to push, a lot of them coming from my experience at the GNOME Foundation. But the way I (and I hope, many others) see it, the chairman is just one member among others; of course, the chairman should be a bit more proactive in pushing the others, but that's the main difference. It's therefore important to have great people in the Board, like we do today. But guess what, we also have elections coming in a few weeks, so if you feel you can make a difference, consider running! If you don't want to run but have ideas to share, don't hesitate to mail the board or me to send us your input.
Because of this new position, I went last month to Orlando, in order to attend SUSEcon and the openSUSE Summit that was organized just after SUSEcon. This was really a last minute decision: I booked my flights three days before leaving... Both were amazing events, especially when you think that this was the first year for both events.
SUSEcon
Of course, it was a great opportunity for me to chat about openSUSE and the Board with many people, including Ralf Flaxa (VP of Engineering at SUSE) and Michael Miller (VP of Global Alliances & Marketing at SUSE) who both care a lot about openSUSE. It turns out they simply told me, when I asked if they were expecting anything special from the chairman: do what's good for the project! Pretty cool to hear :-)
It was no surprise, but there was quite some discussion about the cloud during SUSEcon. And actually, I was surprised at how much interest there was from everyone. I was helping on the SUSE Cloud booth, and many people came in — some to just learn about the field in general, while others had some pretty deep questions about the technologies. Everyone was mentioning OpenStack during the keynotes, and the SUSE Cloud product was deployed live during the closing keynote to show how easy it is to deal with. SUSE also produced some fun videos about the cloud.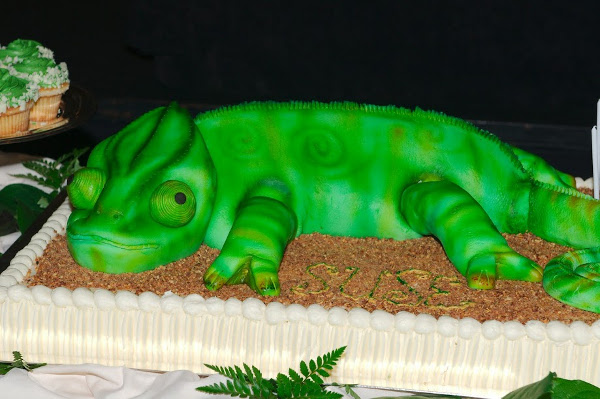 SUSE's birthday cake. Picture by Andreas Jaeger
Since SUSE is 20 years old now, SUSEcon was also the perfect time to celebrate SUSE's birthday. Some kernel hackers were nice and took time to participate in a happy birthday video, we had a fun birthday party, and we also went to see the Blue Man Group (great show!). Andreas Jaeger uploaded pictures of the whole event, if you want to remember what you enjoyed there, or see what you missed ;-)
openSUSE Summit
The openSUSE Summit had many people coming (more than I expected!), and it was a lot of fun. Bryen and the whole team did an amazing job with the organization, and I think everybody enjoyed the family atmosphere that this event had. There were also great sessions (although I only attended two of them), and thanks to ownCloud and Omnibond, we had fun parties in the evenings. I especially loved building the small boats (or a car, like Simona and I did).
The openSUSE Summit also hosted a GNOME hackfest on user observation. Anna, Federico and Cosimo wrote about it already. It looked like it was a useful hackfest, from what I could see!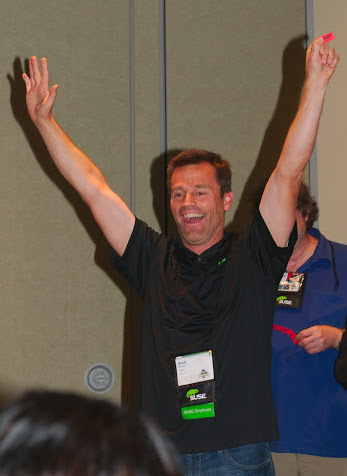 Scott loved the Summit! Picture by Andreas Jaeger
If you want to see pictures from the openSUSE Summit, go check Andreas' gallery. Between the sessions, the geeko lounge, the parties, huge geekos, a raffle to win a Raspberry Pi (all profits went to the GNOME Foundation), and more, there's lots to see :-)
Oh, and I had the opportunity to talk with Sam Varghese during SUSEcon about how GNOME is doing. I hope the resulting article gives a new perspective about the current direction to people outside the GNOME community.
My flight is probably about to leave; time to look for the boarding gate...