Thursday 5 February 2009
Of course I'm going!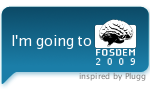 Of course, I'm going! I'm actually leaving tomorrow morning. It'll be quite some busy days with lots of discussion on different topics, but it'll be great to see tons of people again. My main worry at the moment is that I'm pretty sure the two days and a half will be way too short for everything ;-)
On the GNOME side, we'll now have our traditional GNOME beer event on Saturday evening. The usual stand will be animated by a team of volunteers (you can still sign up to help!), and there will be free stickers, and t-shirts with a new design -- I'm quite eager to finally see how they look. If I'm not mistaken, the t-shirts will be at the usual price: €5 for GNOME Foundation members and €10 for everybody else. Oh, and I didn't mention the devroom which will be a good place for some exciting stuff. Glad to see quite some french-speaking people talking :-)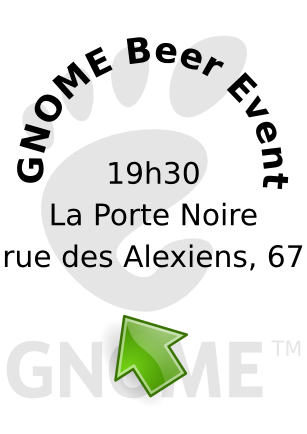 We're trying to organize a group photo on Saturday afternoon. Depending on the weather, we'll do it inside the devroom or outside. We'll announce this once we know how sunny the sky will be, but be ready for 15:45! Of course, we'll need a camera, but that shouldn't be a big issue. There will also be a photo with the KDE people -- quite a challenge to have everybody on one photo.
On the openSUSE side, Martin has been taking care of nearly everything so I expect the presence to be quite good. I can't wait to meet more of the openSUSE community, since I still can't put any face on most names... There are tons of things to discuss, and I hope we'll get some interesting feedback from users but also people who'd like to contribute. Oh, and it seems I'll be talking about our rocking GNOME team on Sunday :-)
Woo, quite excited about all this!