Tuesday 24 May 2011
How to request GNOME 3 PromoDVD for an event or a user group
As mentioned several times, we are lucky to have GNOME 3 PromoDVDs to give away, either at events, or in user groups. They really make a great material to distribute in order to promote GNOME 3, and to help people play with it once they get home. We dispatched 2,000 DVDs to five locations: China, Europe (Berlin), Europe (Paris), India and USA.
Now the good news is that everyone can request to receive one or several box(es) of 100 DVDs to help organize a GNOME presence at an event, or to contribute to a user group. If you're interested in this, just head to the PromoDVD wiki page that contains all the information you need to know to request DVDs!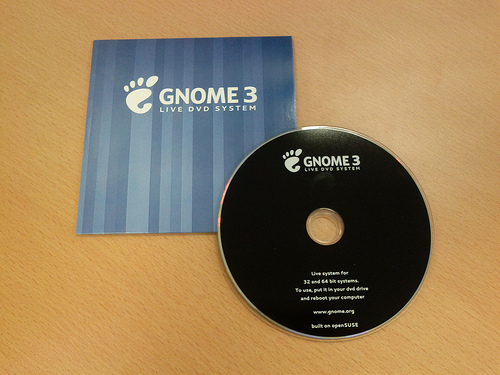 GNOME 3 PromoDVD. Picture by Frédéric Crozat
One thing I love about those DVDs is that we are shipping them with sample files that people can play with:
Those files are all coming with friendly licenses (usually, a Creative Commons one, either BY or BY-SA).
So think about the events you'll attend in the next few months and don't hesitate to ask for some. You won't regret it as visitors tend to love them, according to our first experiences :-)