Saturday 14 August 2010
More GUADEC tidbits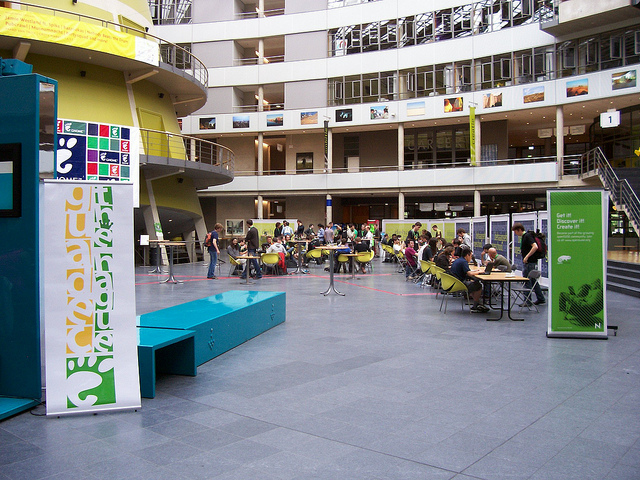 GUADEC Open Space by Sense Hofstede (Creative Commons by-sa)
See my previous post for the first GUADEC tidbits.
Apparently, I was not for sale (I didn't know, or well, I knew it). And the result is that someone I won't name (let's call this someone Kat) tried to buy me. Without success.
Sílvia and Gil won the GNOME Pants this year! Woo! It's a bit sad that they chose to wear it only during the Collabora party: they pretended they were not the right size...
I had quit an interesting chat with Luis during the Collabora party. I liked his keynote.
Gustavo and I are invincible at table football when in the same team. Mwahahaha!
Some people didn't know how to easily get GNOME Shell running from GDM. I hope that by now, most distributions do something like openSUSE, where you can select a GNOME 3 Preview session in GDM.
Ryan made some I support the release team stickers. Sweet. He also made some that used a cryptic vuntz 3.0 message...
Jos, the new openSUSE community manager, happens to live just a few kilometers away from the Hague. He was still at his previous work back then, but we were able to share a dinner before the Canonical party.
It was great to have more time with Dominique, one famous openSUSE hero.
Bastien and I tried to send a poster to a generous Friends of GNOME donor. During 45 minutes, we walked around, asked people, looked on maps, etc. to find a post office. And when we found one, it didn't have what we needed to send the poster. Oops!
Didier helped me find a real post office on Saturday. And there we were able to send the Friends of GNOME poster.
Some people are talking about a French Conspiracy. I don't know why. Anyway, after Reinout's closing speech, Bastien and I went on with the closing ceremony together.
The Foundation released three press release this week. Many thanks to Zonker for his help for this!
The next GUADEC will be in Berlin, with Akademy! I'm already excited!